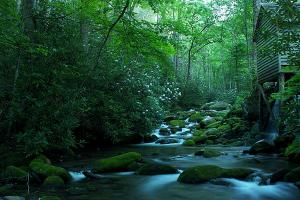 Sure, the traditional saying is A Picture Says A Thousand Words, but when Pete Nunweiler, a photographic hobbyist from Indianapolis adds art to his website provided by Fine Art America, a picture says ten thousand words.

"Although I can not deliver the smell, touch, taste and feel of each subject," Pete begins in is online biography, "I hope you will be able to look at the subject and let your imagination fill in the senses that can't be captured in a photograph, but can in photography." This is Pete's goal to his audience. To do this, he partners each posted photograph with a description of the events that lead up to the moment he captured the image. Sometimes that includes a chronological series of events. Other times, it is a description of the wind speed, temperature, and scent of the surroundings.

"During my first trip to the Great Smoky Mountains National Park, in Tennessee, my wife and I were driving along the Motor Nature Trail just East from stop light...